A 1500s 'Miracle Cure' Made From Trees Probably Didn't Cure Syphilis
A new exhibit at the Newberry library touches on the history of guaiacum treatments.
A report by Jessica Leigh Hester for Atlas Obscura
IN RENAISSANCE EUROPE, PEOPLE SPENT a considerable amount of time grumbling about syphilis—and, typically, blaming the scourge on foreigners, near and far. "From the very beginning, the disease was associated with the French, and its most common name was therefore Mal Francese or Mal Francioso, on the grounds that the French army was responsible for bringing this, among other calamities, to Italy," write medical historians Jon Arrizabalga, John Henderson, and Roger French in The Great Pox: The French Disease in Renaissance Europe. (Florentine writers also dubbed it "French boils," they add, or the slightly-more-charming "French itch.") Others called it "Mal Napolitano," and still others claimed that it originated in Africa, the "Indies," or the Americas.
Around 1588, Johannes Stradanus, an artist of the Medici court, depicted a type of alleged wonder cure that also came from the New World—more specifically, from the wood of a guaiacum tree. An impression of his engraving of this purported cure is on display at a new exhibition at the Newberry Library in Chicago.
Some plants in the genus Guaiacum—still a popular homeopathic treatment, and used to check stool samples for blood—were also called "holy wood," and Europeans imported them in enormous quantities. In the 16th century, about 10 tons a year arrived at the port of Livorno alone, write the scholars Alessandra Foscati and Lia Markey, citing archival research by the economic historian Rafael Girón Pascual. Different contemporary sources described treatments using different parts of the wood (which could be scraped, cut, or grated) and different kinds of water (river, spring, or well), Foscati says.
There were also debates about how to administer the treatment, and for how long. Gonzalo Fernández de Oviedo y Valdés, a Spanish colonizer and writer, wrote that a pound and a half of wood should be boiled overnight in water, then served to the patient "so hot that he almost cannot drink it," at which point he should be swaddled in blankets so he would sweat. But some evangelists swore it worked wonders. The sculptor Benvenuto Cellini, who complained of "blisters the size of six-pences, and rose-colored," claimed that after 50 days of guaiacum, "I was cured and as sound as a fish in water."
. . .
---
Becerrillo: The Terrifying War Dog of the Spanish Conquistadors
An article by Joanna Gillan for Ancient Origins
Dogs have been used as powerful weapons of war for at least the last 3,000 years. The ancient Egyptians, Greeks, Persians, Sarmatians, Britons and Romans are all known to have used dogs in combat, or for scouts, sentries, trackers, or executioners. But the Spanish conquistadors employed war dogs on a scale that h
ad rarely been seen before, and with devastating effect.
Christopher Columbus was the first to use dogs as weapons in the New World. He released them upon the indigenous people of Hispaniola in 1493 and to disperse groups that came to stop his landing in Jamaica in 1494. But it was the Battle of Vega Real in 1495 that awoke Columbus to the potential that dogs had as weapons against the inhabitants of this new land.
. . .
With each subsequent voyage to the Americas, hundreds and then thousands more dogs were brought over. The most popular breed was the mastiff, which could weigh up to 250 pounds and crush bones with its massive jaws. Their sheer size and fierce look instilled terror among the native population. Famous conquistadors, like Balboa, Velasquez, Cortes, De Soto, Toledo, Coronado and Pizarro, all used dogs as instruments of subjugation, execution and as a form of psychological warfare. But it
was Juan Ponce de León , a top military official in the colonial government of Hispaniola, who unleashed the fiercest warrior of them all – Becerrillo.
. . .
Becerrillo, a name meaning 'Little Bull,' was a brown-eyed, red pelted mastiff owned by Spanish explorer Juan Ponce de León but often entrusted to the care of conquistadors Captain Diego Guilarte de Salazar and Sancho de Aragón.
Becerrillo's origins are uncertain, but it is believed he was born in the Americas in the kennels of Ponce de León. The earliest records of him date to 1511, but by then he was already described as sporting battle scars.
Ponce de León was the conqueror of Puerto Rico. After landing there in 1508, he filled his pockets with gold before convincing Christopher Columbus's son, Diego, to declare him governor of the island. He then set out with men and dogs to subdue the native population and become rich.
He trained his prized possession Becerrillo to become a powerful weapon. The dog was taught to distinguish between the Spanish and the natives, to search out and cut down runaway captives, and to kill in battle.
. . .
The campaign of terror committed through Becerrillo came to an end one morning in 1514 when indigenous Caribs from the island of Vieques captured Sancho de Aragón. According to Spanish historian Gonzalo Fernández de Oviedo y Valdés in his 1535 Historia, the dog pursued the attackers who had taken off in dugout canoes, by making his way through the water. Becerrillo became an easy target and was hit by a volley of arrows. Spanish soldiers cauterized his wounds, but he died shortly afterwards. He was given a secret burial and, according to Oviedo, was mourned more than their fallen comrades.
Like every soldier and every dog loyal to his master, Becerrillo was dutiful and allegiant until the very end. He may have killed many, but it was his masters that were the true killers.
---
The Taínos Refused to Grow Food. The Spanish Starved.
Rebellion against invasion triggered a series of events that would take a "swift and violent toll" on a Caribbean island's native biodiversity.
Written by Jess Romeo for JSTOR Daily
In the late fifteenth century, Spanish colonizers in the Caribbean were starving in a land of plenty. They had just established their newest settlement, La Isabela, in what is now the Dominican Republic. The Spaniards planned to survive by exploiting the area's indigenous people, the Taínos. But the Taínos refused to plant their annual crops, in protest of the Spanish invasion and appropriation of their lands.
This act of rebellion, writes environmental historian Lizabeth Paravisini-Gebert, "stemmed from the native population's recognition of their control over the food supply." She dubs it "the New World's first food fight."
The effect was immediate. In historical records, Spanish colonist Gonzalo Fernández de Oviedo refers to the event as the natives' "evil scheme." He describes the crisis in grim detail: death caused by starvation left "a pervasive pestiferous stench over the land."
The colonists were desperate for food. But, lacking knowledge and fearful of the untamed forests, they were unable to take advantage of the island's native vegetation. ("It is a sad fate to die slowly from hunger within a few minutes' walk from a seemingly endless supply of mangoes, papayas or avocados," laments Paravisini-Gebert.)
To compensate, "the besieged conquerors resorted to eating everything in sight, with dire consequences for some species of fauna—and themselves," Paravisini-Gebert writes. This first food crisis set several species on the path to extinction, including the Taínos' mute hunting dogs and several endemic species of rodent. The colonists were so desperate that they even ate lizards, salamanders, and snakes.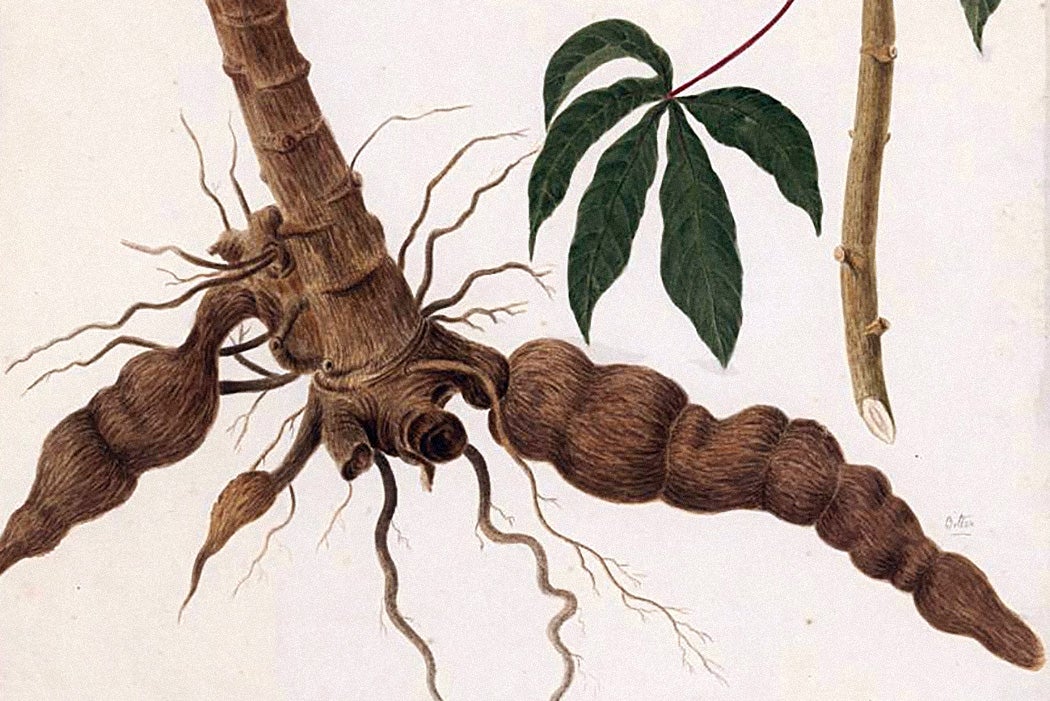 "In order to live," wrote Oviedo, the Spaniards "did not show any mercy to beast or animal; any animal they could find ended up in the fire, boiled or roasted, there was no lack of appetite for eating things that were frightful to the eye."
After destroying whatever resources they could get their hands on, the colonizers began a campaign to replace the "foreign" flora and fauna with something more familiar. They manipulated the environment to suit their needs, introducing European crops like wheat and sugarcane. They brought over more "familiar" animals, like domesticated cows, sheep, goats, and horses. These invaders erased and rewrote the native biodiversity, giving themselves "ready access to plentiful and familiar food through minimal effort on their part."
The Spanish devastation of the landscape would set in place the pattern of exploitation and erasure that they would continue to follow for centuries. "You could ask, [why] do I find these tales of unnecessary hunger so compelling?" writes Paravisini-Gebert. "To me they speak of the tragic moment of historical transition, a moment of heartbreaking replacement of one worldview for another, a moment that would inevitably lead to numerous deaths, countless species extinctions, and an assault upon the land that continues to this day."
---
Does the island of Jaina, Campeche, have a name in Mayan?
A report by Jorge Victoria Ojeda for The Yucatan Times
The name Jaina for a river on the island of Hispaniola was recorded since the arrival of Columbus to these lands. Bartolomé de las Casas names it when he tells that the natives of that island indicated to Columbus the existence of gold deposits to the south and, when they marched there, "they arrived at a large river that was called, and today we name it Haina."
Fernandez de Oviedo and Juan Lopez de Velasco were notified of this river with their names. In Mexico, the island of Jaina is located 42 kilometers north of the city of Campeche; it measures 1,000 meters long by 750 in its widest part, it is separated from the coast by a channel of 80 to 100 meters wide, and it was built mostly in an artificial way by the ancient Mayans.
The coastal area in front of the island is a limestone strip, covered by mangroves and swamps.
The island was known in the 8th century AD as "Kaan." It is possible that this denomination alludes to one of the characteristics of its configuration. The phoneme Kaan is equivalent in Yucatecan Mayan to "sky," but it has a derivation that it is ka'nal: "to become tall." With that name, it may refer to the artificial promontory above sea level that, in some points, rose above the mangroves, or to the Mayan structures of the site.
The current name of the island is said to come from its ancient Mayan name, Hina, documented in the Calkini Codex (before 1582). But it is not known when it was transformed into Haina (Jaina), as it is possible to find both names on 18th-century maps.
As for the name Hina, similarities have been sought with the Mayan compound formed by the word ha' (house) + na (water), whose fusion results in "house-water," a name in keeping with the geographical characteristics of the area, surrounded by mangroves. In the cartography where this site appears, it is marked with the names Hina, Jaina, Jayna, Xaina, or Jayna.
Because of the coincidence of designations in the Española and New Spain, it is probable that the name of the river of the current Dominican Republic was transferred to the island campechana, with which the word Jaina, would not come from the Mayan. Or, a similar writing helped to confuse one with the other.
For this hypothesis, let us remember the innumerable contacts and interrelations between the diverse environments of the historical Caribbean, where Campeche is located. Santo Domingo was an obligatory passage for the Spaniards who flocked to America at the time of the conquest and colonization.
Also, that the militiamen came and went between one conquered land and another and that in many cases, the historical descriptions, maps, and plans were "enriched," including errors, with the information and words that they conveyed. Finally, those documents, on many occasions, were made in Spain with no other base than descriptions.
In short, it could be that the name of the Mexican island does not come from a Mayan word, but from another Taino word. What do you think, dear reader?
---
A bilingual painting and how the Huntington's 'Visual Voyages' changes the story of art and science
An article by Carolina A. Miranda for the Los Angeles Times
Here is an excerpt:
. . .
For much of Western history, the conventional wisdom has been that scientific discovery was mainly taking place within the confines of nations such as England, Germany and Italy. But the Spanish colonization of the Americas resulted in an unprecedented level of research and sophisticated levels of knowledge cultivation and image-making.
"There is this idea that the only people who were making scientific discoveries about the natural world in that period were doing it in Europe and that it had nothing to do with Latin America or the Spanish world," says exhibition curator Daniela Bleichmar. That is simply not true.
Even as colonization proved disastrous for the continent's indigenous groups, many of the artists who worked on key scientific expeditions were indigenous — and some of the work reflects a distinct fusion of European and pre-Columbian tradition and thought.
"The production of art and the people who did that were much more diverse than has been credited," Bleichmar says.
. . .
The work in "Visual Voyages" captures the sense of wonder that many European explorers felt when they landed in the Americas and encountered plants and animals that were entirely unfamiliar. This includes a fundamental work by the Spanish explorer Gonzalo Fernández de Oviedo: "Summary of the Natural History of the Indies," published in 1526.
"It's the first European book written about the nature of the Americas," says Bleichmar. "It has a huge impact in intellectual and scholarly circles."
Of particular note is a page that shows an illustration of a pineapple that is straight out of science fiction — the first image of a pineapple drawn by a European.
"It's about someone trying to depict something they have never seen before," says the curator. "And the text is really awesome too. He's saying, 'Imagine describing a pineapple to someone who has never seen one? It is like taking apples and quinces. And how do you describe what it tastes like? Well, it's better.' And he's like, 'The only one of the five senses that is not pleasantly rewarded by this magnificent fruit is the sense of touch.' It's so earnest."
---
Books essay: naturalist and artist Maria Sibylla Merian was a woman in a man's world
Her work straddles the territories of art and science, bugs and flowers
By Gauvin Alexander Bailey for The Art Newspaper
Here is an excerpt:
These days some of the best works on art history are by historians of science. Last year was particularly bountiful, with a major exhibition (at the Berlin Kupferstichkabinett and Städel Museum in Frankfurt) and monograph on the great German naturalist and painter Maria Sibylla Merian (1647–1717), as well as a groundbreaking show on nature, art and colonialism in Latin America (at the Huntington Library in San Marino, California).
Merian remains one of the most extraordinary figures in the history of science. A woman in a man's world, she was already collecting caterpillars at the age of 13; she learned how to draw from her father (an engraver) and stepfather (a still-life painter). Her caterpillar-hunting took her from her native Frankfurt to the jungles of Suriname and earned her influential friends and material wealth as she settled in Amsterdam to run a studio with her two artist daughters.
. . .
Naturalism began very early: Gonzalo Fernández de Oviedo, who crossed the Atlantic 11 times, published natural history books on the "Indies" as early as 1526 and 1535, which recorded birdsong and contained the first prints of a pineapple and hammock. Some of the earliest works are by Amerindians, such as Martín de la Cruz's book of medicinal herbs (1552), which preserved indigenous knowledge and Aztec painting conventions. Late Renaissance woodcuts show the usual round of cannibals and naked amazons but the reader is struck by how quickly natural history painters insisted on accuracy: as with Conrad Gessner's armadillo (1551–58) or the splendid painting of a three-toed sloth (1626) made for the Roman collector Cassiano dal Pozzo. Nature was also a source of profit, as evidenced by depictions of brazil-wood, tobacco and cochineal—the latter a closely guarded Spanish secret.
. . .
---
Myths, mysteries abound 500 years after Ponce de Leon's voyage to Florida
By Jon Busdeker for Orlando Sentinel
Here is an excerpt:
. . .
Fountain of Youth
Popular belief: The fabled Fountain of Youth drew Ponce de León to Florida.
What experts say: The official charter of Ponce de León's voyage never mentioned the Fountain of Youth, said author and University of Central Florida history instructor Jim Clark. And no one during Ponce de León's lifetime (1474-1521) connected the explorer's travels to the mystical waters.
The myth that Ponce de León traveled in search of the Fountain of Youth — the fabled waters that supposedly brought eternal youth to those who drank or bathed in them — began after his death.
Spanish historian Gonzalo Fernández de Oviedo "wanted to show Poncé as an idiot … a bumbling fool," said University of Florida professor Jack Davis, an expert on the state's early history. "It is unclear why he [Oviedo] did, but probably because he was aligned with [Christopher] Columbus and his son, Diego."
Ponce de León, like most New World explorers, was probably looking for gold, silver and slaves, Davis said.
Where he landed
Popular belief: Ponce de León landed near Cape Canaveral. Or … Ponce de León landed in Melbourne Beach … or St. Augustine.
What experts say: The original ship's log from Ponce de León's voyage to Florida has been lost, so the exact spot where his crew landed isn't known. Some historians think Ponce de León landed somewhere between present-day Melbourne Beach and Daytona Beach.
But Turner disputes those claims. He said Ponce de León more than likely came ashore north of St. Augustine. According to Turner's research, Ponce de León spotted Florida on March 27, a week before what many historians say. Turner said Ponce de León traveled along the coast for almost a week and probably didn't come ashore until April 3.
But unless Ponce de León's logs are found, no one will ever know exactly where he and his crew landed.
. . .
---
Armorial parchment given to Columbus on his return to Spain offered in Madrid auction
On March 15, 1493, Christopher Columbus disembarked from his ship in Palos and headed straight to Barcelona where he recounted tales of his discovery of America to King Ferdinand and Queen Isabella of Spain.
A report from Antiques Trade Gasette:
He presented them with gifts including plants, pineapples, turkeys and 'Indian' captives and he was greatly celebrated by the Spanish Court for the success of his adventure.
The king bestowed upon him many honours and favours in recognition of his achievements and the original vellum parchment depicting the coat of arms given to Columbus at this time – the only representation to exist – is to be auctioned at Ansorena, Madrid, on December 17.
Although this encounter and the granting of the coat of arms was detailed by chroniclers of the time, including the Dominican Friar Bartolomé de las Casas (1484-1566), Gonzalo Fernández de Oviedo (1478-1557) and Francisco López de Gómara (1511-66), its complete text remains unpublished.
Provenance
Columbus left his valuable documents in the custody of the Monastery of Our Lady of Las Cuevas de Sevilla in 1500, where they remained for nearly 50 years when they were incorporated into a group under the ownership of his grandson, Luis Colón de Toledo, Ist Duke of Veragua.
Despite lawsuits and disputes over ownership in the late 16th and early 17th centuries, the document has remained part of the archive of the Dukes of Veragua.
The polychrome manuscript measures 11in x 1ft 5in (28 x 44cm) and from the centre hang green/brown ribbons that originally held the validation seal, now missing.
This previously unpublished historical document carries an estimate of €1.25m– 1.55m.
---
You Know That Fountain of Youth? It's Still Open
An article by Moriah Gill for Rare News.
It's true. (Juan) Ponce De León's Fountain of Youth Archaeological Park is a tourist attraction park in St. Augustine, Florida that shows the 16th century Spanish settlement. The park was created in 1904 by Luella Day McConnell, known as "Diamond Lil" for the diamond rings she wore on her fingers. Diamond Lil, a doctor turned adventurer during the Klondike Gold Rush, established the attraction on a 15-acre plot of land, located where Spanish explorer and conquistador Juan Ponce de León first landed in the United States in 1513. That's all just fine, right? A story you've heard before. Does it change when I tell you that Ponce de León wasn't actually associated with the Fountain of Youth until after he died?
According to Gonzalo Fernández de Oviedo, Spanish historian, Ponce de León was searching for the Fountain of Youth to cure his aging when he set out for Florida in 1513. He was leading the first known European expedition to what was known as "La Florida". Before, though, Ponce De León made a trip with Christopher Columbus for his second voyage to the New World as one of his "gentlemen volunteers". He also sailed to Puerto Rico in 1508 and served as the first governor of Puerto Rico by the Spanish crown, or Monarchy of Spain. However, he was in an ongoing legal battle with Diego Columbus, Christopher Columbus' son, over who would govern the land.
This journey in 1513 is the first record that he was in search of the alleged natural spring that promised eternal youth, but Ponce de León didn't actually write a word about seeking the fountain of youth. The story of the spring or mythical fountain is common in early literature and dates way back to Herodotus, a Greek historian). The legendary fountain of de León was said to be on the island of Bimini. However, instead of Bimini, he landed on the coast of Florida, inhabited by the Calusa, a Native American tribe. When fighting over land broke out, de León was injured and definitely never found a fountain of youth.
Diamond Lil's Fountain of Youth Archaeological Park is as brilliant an idea as the story of the actual fountain. The park was promoted as "Florida's First Tourist Attraction". Here they claim to have unearthed many ancient artifacts dating back to when Ponce De León's arrival in Florida. The park includes peacocks, a planetarium, a boathouse and numerous exhibits. It's an exciting place to explore, but don't bank on the youth. There is, of course, a "fountain" on the grounds, which tourist are encouraged to bottle water from and take home (for a price, initially 10 cents a cup and more now), While the "fountain" is actually a natural spring, people are into the spirit of the place. A burial pit of Timucuan skeletons was found on the grounds in 1934. They named it was the "first Christian Indian burial" and a covering was built to protect it. A mural was made to commemorate it.  Check out the park to plan your next wedding, birthday, event – or to keep turning 21 forever, no judgments from us!
---
Prickly characters
By Gillian Vine for Otago Daily Times
This is the year of the prickly pear.
Choosing to promote it seems, frankly, bizarre as some species of prickly pear (Opuntia) are extremely invasive.
Native to the Americas, some 220 species of prickly pear are recognised, about half of them Mexican.
The first European to draw an Opuntia was a Spaniard, Gonzalo Fernandez de Oviedo y Valdes. On his journeys through Central America and the Caribbean from 1513 to 1545, he recorded in detail much of what he saw. His sketch of what he called a torch tree is thought to have been the first depiction of a prickly pear, although which Opuntia species he drew is still debated.
The group is considered the toughest of the lowland cacti, a couple of species being found as far north as the Canadian border.
. . .
Early Mexicans found another use for the Opuntia. If squashed, the females of grey louse-like insects (Dactylopius coccus) that fed on the cacti yielded an unparalleled red dye, cochineal. When the Spanish turned up in the 16th century, they quickly saw the advantages of the product and shipped tonnes of dried insects to Europe, where their dye was used for everything from British soldiers' scarlet jackets to royal state robes.
Given that there are 80,000-100,000 insects to 1kg, to keep up production, the Spanish introduced prickly pears to their own country and some of their other colonies, including the Canary Islands.
. . .
Peru now produces 85% of the world's cochineal, and the Canary Islands has revitalised its old industry to take second place ahead of Bolivia and Chile. Mexico, cochineal's original home, is a small player while an initiative to plant cacti in drought-stricken parts of Morocco may see it appearing in the lists in future.
Prickly pears are edible and have become something of an "in" product in Italy and South Africa. The fruit is apparently picked with tongs and one writer recommends using a knife and fork to deal with the spines. Personally, I plan to stick to Opuntia's spineless cousin, dragon fruit.
---
Masaya Volcano, the Mouth of Hell: 5 Fast Facts You Need to Know
Here is an excerpt:
. . .
The importance of the Masaya volcano dates back several centuries. According to an academic article published in the Journal of Volcanology and Geothermal Research in 2008, indigenous groups believed Masaya was a god. Spanish colonialist and historian Gonzalo Fernández de Oviedo y Valdés wrote in his 1851 book, "Historia General Y Natural de Las Indias," that native peoples tossed children and young women into the crater as human sacrifices.
Oviedo y Valdés also wrote that native communities believed a sorceress, described as "an old woman with long and spiky hair, sharp fangs and breasts reaching her waist," lived in the volcano.
But it was the Spanish conquistadores who referred to Masaya as the "mouth of Hell." They arrived in Nicaragua in 1522. Two years later, both Masaya and the nearby Momotombo volcano erupted. This was the first time volcanic activity was recorded in the region.
Governor Pedrarias Davila wrote a letter to Emperor Carlos V in 1525 describing the volcanic activity. The letter read in part, "In this province of Masaya there is a large mouth of fire which never ceases to burn and during the night it is so big as if it reaches the sky, and with a height of 15 leagues (75km) there is light as if it was day."
Oviedo y Valdes wrote of the lava lake, "At the bottom of that hole there was a fire that was liquid as water and that matter was burning more fiercely than red hot coal and more ardent in colour; burning more than any fire can ever burn, if that is possible. All of that matter filled the bottom of the hole and was boiling."
Historians say explorers were curious to learn whether the lava within the crater of the volcano could contain gold, silver, or other valuable materials. The first attempt took place in 1538 by Friar Blas del Castillo. He carried a wooden cross with him to "so scare away the demons" as he descended. After several attempts, the friar and his team eventually managed to collect samples of the rocks but did not find gold.
. . .
---
Ciudad Perdida – The "Lost City"
Ciudad Perdida, translated in Spanish as the "Lost City", also known as "Teyuna" and "Buritaca" locally is an archaeological site in the jungles of the Sierra Nevada de Santa Marta in Colombia.
Archaeological evidence suggests that the city was founded around 800AD by the Tayrona (also spelt Tairona), a Pre-Columbian culture that first occupied the region at the beginning of the 1st millennium AD and founded around 250 settlements.
Ciudad Perdida most likely served as the region's centre, supporting a population of around 2,500-3,000 inhabitants.
Archaeologists have discovered over 200 structures, mainly constructed with timber on 169 terraces, connected by a network of flagstone roads and several small circular plazas that covered an area of over 30 hectares (80 acres).
The terraces were constructed using a combination of rammed earth and masonry, capped with stone to ensure a stable foundation and prevent erosion. Archaeological evidence suggests that the Tayrona cultivated maize, beans, sweet potato, yams and avocados as a staple diet.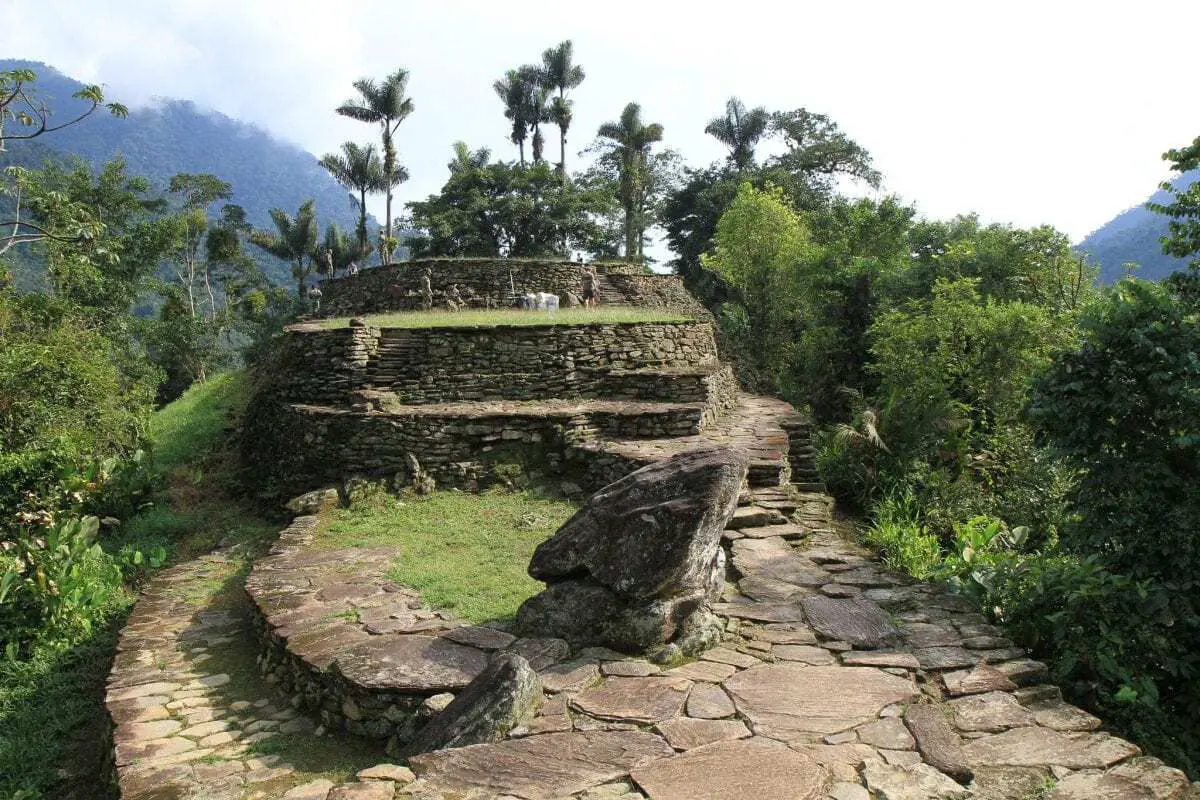 Ciudad Perdida was abandoned after the 16th century, shortly after the arrival of the Spanish and was subsequently swallowed by the jungle. The reason for the abandonment remains elusive, but around the same time the Spanish explorer Gonzalo Fernández de Oviedo arrived in the Bay of Santa Marta in 1498.
Although described as lost, some of the indigenous tribes in the region (Arhuaco, the Koguis and the Wiwas) claim to descend from the Tayrona, always knowing of the cities existence and continued to see the site as sacred and a place of pilgrimage.
Ciudad Perdia first became known to the outside world when treasure hunters and looters (known in Colombia as "guaqueros") descended on the site, robbing much of the archaeological legacy of the Tayrona.
When gold figurines and ceramic urns from the city began to appear in the local black market, archaeologists headed by the director of the Instituto Colombiano de Antropología reached the site in 1976 and placed Ciudad Perdia under the state's protection.
Ongoing work today by the Global Heritage Fund (GHF) has been working in Ciudad Perdida to preserve and protect the historic site against climate, vegetation, neglect, looting, and unsustainable tourism.
---
Slothy Sunday: The rise of the sloth
An article by Janet Sandi Carmiol for The Tico Times
After some research, I found that the first time that someone EVER mentioned a sloth in a book was in Gonzalo Fernandez de Oviedo y Valdes' 1526 book, "La historia natural y general de las Indias," where he gives a brief description of the sloth. He says that it is the most stupid animal you can find, so slow that it would take a whole day to move 50 feet. The sloth was considered a very weird animal, although interesting and unlike any other. At the time, it was believed that they were fed by the air – that they just climbed trees, turned their heads to the wind, and fed that way. They had such tiny mouths that it was presumed they were not venomous. In the end, he says, "I've never seen such an ugly and useless animal."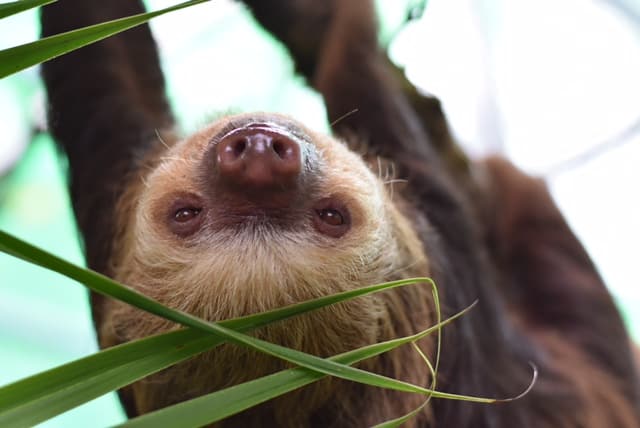 Two-hundred years later, in 1765, a French guy named George Buffon decided to do a more scientific description of sloths where he points out anatomical "errors," like the 23 pairs of ribs, lack of incisors, fur full of algae, no fingers but absurdly long nails, and flightlessness. He continued that they don't dig, they don't swim, they can only climb trees, stating, "one more mistake in their anatomy and they would have been extinct already."
Throughout history, sloths have been bullied by writers, which resulted in an animal no one cared about for a long time. It wasn't until the last two decades that people got more interested in learning about, caring for, and protecting this species.
And yes, they do have a LOT of differences with other mammals. These differences are what makes them more adapted to survive: the 23 pairs of ribs protect all the important organs when they fall, the algae in their fur is an entire ecosystem with moths that helps them as camouflage, they are so slow because their metabolism is pretty low but efficient, and they are very impressive swimmers!
They are related to armadillos and anteaters, and belong to a group called Xernarthras, also knows as Edentata, because they lack teeth (incisors).
Even though they had a rough start among scientists and writers, they found their way to the top. Now VERY POPULAR animals, they even got a spot on one of Costa Rica's bills. There are foundations and big organizations dedicated to researching and protecting these amazing creatures. How incredible it is that sloths didn't merely survive through the years – they "slowly" stole peoples' hearts!
---
Has the tomb of the first historian of the Americas been discovered?
Despite having been forgotten by history, Gonzalo Fernández Oviedo played a key role in the conquest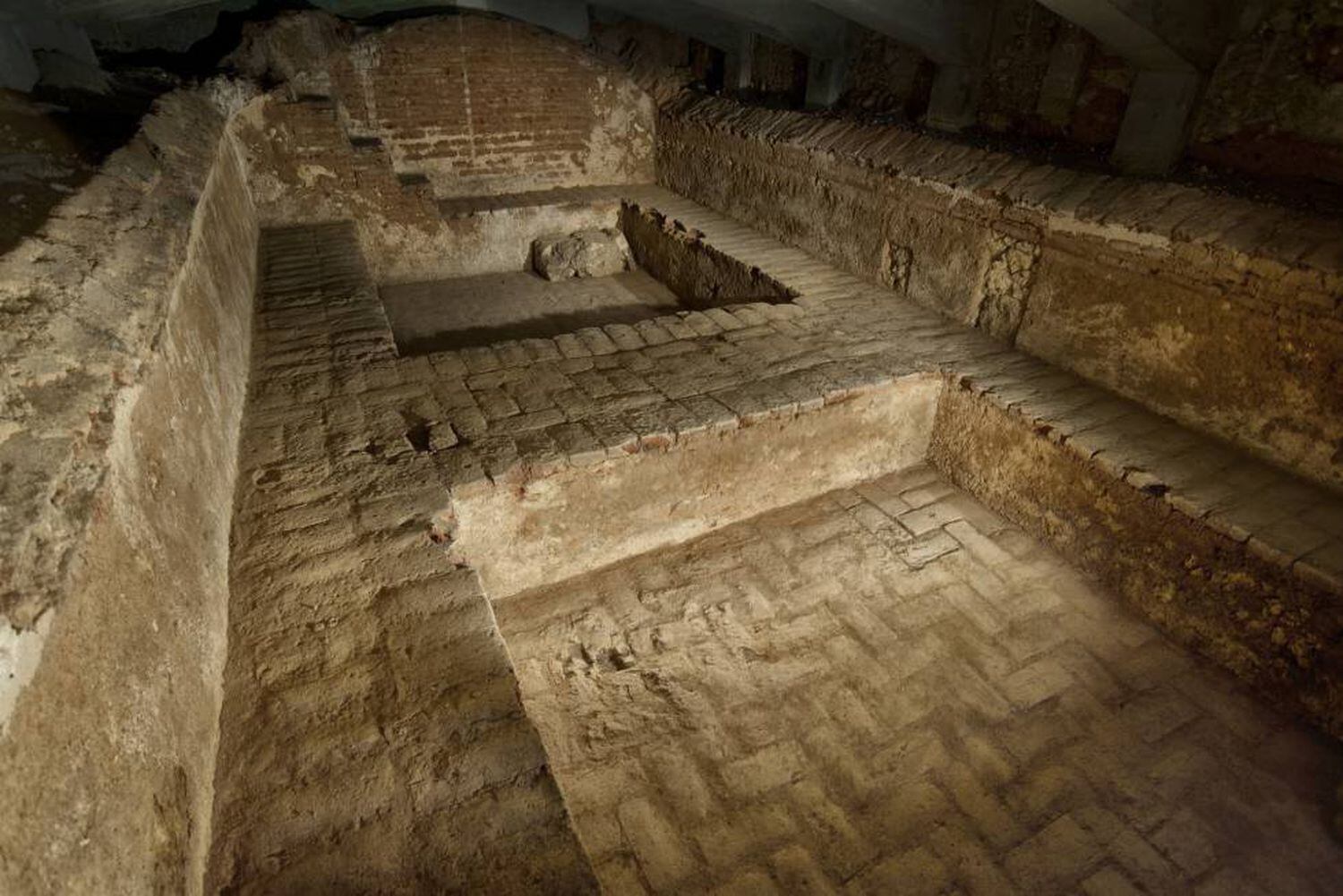 The site of what is believed to be the tomb of Gonzalo Fernández de Oviedo, in Santo Domingo cathedral.
A report by Enrique Bocanegra for El País (English version by Nick Lyne).
This beginning of this story could have been lifted out of a host of mystery films or novels: a group of men are working at a religious building that is centuries old, and, by chance, when they remove a layer of soil, they discover a crypt, covered in rubble and lost to the sands of time. But this is no fictional tale.
The story dates back to 1992, when work was going on to transfer the pantheon where Christopher Columbus was buried from the cathedral of Santo Domingo, the capital of the Dominican Republic. The project was part of the many acts staged that year to commemorate the mariner's arrival in the Americas five centuries earlier. But unexpectedly, another tomb was discovered.
A few meters below the Italian mariner's mausoleum was the crypt with a damaged brick vaulted ceiling measuring 8.46 meters by 3.80 meters. Who was the undoubtedly illustrious person buried in such a prized spot?
Esteban Prieto Vicioso, head of conservation at the Basilica Cathedral of Santa María la Menor, to give the church its full name, says the evidence points to Gonzalo Fernández de Oviedo, a name as overlooked as it is important. He is attributed with writing the first account of the Americas, on the orders of Charles V, the Holy Roman Emperor. Until his death in 1557 at the age of 80, Fernández de Oviedo wrote about Columbus's first voyage to the Americas in 1492 and up to Pizarro's rebellion in 1549, as well as detailing the geography, plants, animals and peoples of the continent.
"We know that up to the middle of the 16th century there was an altar dedicated to Santa Lucía built on Oviedo's instructions, and that right underneath he ordered a vault to be constructed, where he was buried," says Prieto Vicioso. "There is no documentary evidence that his body was ever moved from there."
The restoration team at the cathedral – the first one built in the Americas – is trying to raise money to excavate the crypt, which they hope will allow them to identify Oviedo. They believe they will find an iron key in the tomb to the fortress of Santo Domingo, of which Oviedo was governor for the last 25 years of his life. A final detail they believe will definitively establish that the tomb is Oviedo's would be damage to the skull, which was the result of a knife fight with another Spaniard that took place in the Darién Gap, in what is today Panama.
Despite having been largely forgotten by historians, Gonzalo Fernández Oviedo played a key role in the conquest of the Americas, as well as the reconquest of Spain: he accompanied the Catholic Monarchs when they entered Granada on January 6, 1492 after the defeat of the last Moorish kingdom in Spain; he was also present the following year when Columbus met Isabel and Ferdinand on the return from his first voyage to the Americas.
He then moved to Italy, where he met Leonardo da Vinci and leading members of the Borgia family, which originated from Spain, such as Pope Alexander VI and his daughter Lucrecia. He later became secretary of Gonzalo Fernández de Córdoba, a leading navigator. He made his first trip to the Americas in 1514, as part of the expedition led by Pedrarias Dávila and was witness to the former's rivalry with Vasco Núñez de Balboa, the first European to reach the Pacific via the Americas, and who would be executed by Dávila in 1519.
Oviedo returned to Spain in 1526, where he published his Summary of the Natural History of the Indies, which was an immediate success, was translated into English, French, and Italian, and which is still studied by scholars to this day.
In 1532, Charles V named him Official Chronicler of the Indies and Governor of the Fortress of Santo Domingo. He spent the rest of his life in Santo Domingo in a small house filled with books on the banks of the Ozama River, which runs through the capital, writing to governors and servants of the crown throughout Spain's vast American empire, and meeting with them when they stopped off on the island. His research was channeled into A General and Natural History of the Indies, the first part of which was published in 1535, although the remaining two volumes did not appear until the middle of the 19th century.
---
The Growing Appetite For Avocados In America
A report by Geoffrey Migirofor WorldAtlas.
Here is an excerpt:
Food plays an integral part in our culture, and certain types of foods go through a wave of popularity for a certain period like mangoes were quite popular in the 1990s. Currently, Americans are in love with avocados. The fame of the buttery-green fruit that people dice into salads and spread on sandwiches has increased over the last 3 decades. Avocado is a superfood that provides powerful health benefits. As one of the world's most nutritious foods, an avocado tops the chart among other fruits for fiber, magnesium, potassium, folate, and vitamin E. Avocados are the only fruits with healthy monounsaturated fat. The Californian avocado is naturally cholesterol, sugar, and sodium-free. One-third of an avocado has about 20 minerals and vitamins, making it an excellent nutrient-dense fruit.
The History Of Avocados In The United States
Avocados are believed to have originated from Tehuacan Valley in Mexico, where the locals began consuming it over 10,000 years ago. Fossil evidence also suggests that similar avocado species were domesticated millions of years ago, resulting in the current West Indian, Guatemalan, and Mexican landraces. The Guatemalan and Mexican landraces came from the highlands of these nations while the West Indian is a lowland avocado that grows in Peru, Ecuador, Colombia, Costa Rica, and Guatemala. Martin Fernandez was the first man to write about avocado in Europe in 1519. Gonzalo Oviedo gave the earliest detailed account of this fruit in 1526. The avocado was introduced to Brazil in 1809, Spain (1601), Mauritius (1780), Indonesia (1750), and the U.S. (1825). It was introduced in California, Hawaii, and Florida in 1856. Before 1915, this fruit was known as alligator pear in Florida and ahuacate in California. The name alligator pear was inspired by the fruit's olive, bumpy skin while ahuacate is a Spanish term with Aztec origins. The Californian farmers claimed that these 2 names were not ideal for the fruit; therefore, the California-Avocado Association adopted a new innovative term ''Avocados'' as its name.
. . .
---
How The Pineapple Became A Status Symbol?
A report by Nina Sophia-Miralles for The Week.
"There is no nobler fruit in the universe," Jean de Léry writes of the pineapple. Charles Lamb loved the fruit erotically: "Pleasure bordering on pain, from the fierceness and insanity of her relish, like a lover's kisses she biteth." Pieter de la Court pro­fesses: "One can never be tire'd with looking on it." How did these men, and so many others, become so enraptured with the pineapple? And how have we forgotten its former grandeur?
In 1496, when Christopher Columbus was returning from his second voyage to the Americas, he brought back a consignment of pineapples. Little did he know that this golden gift, nestled among the tame parrots, tomatoes, tobacco, and pumpkins, would be the crown­ing glory of his cargo.
The fateful pineapple that reached Spanish King Ferdi­nand II of Aragon was the sole survivor: It was the only specimen that had not dissolved into a sticky rot during the journey. It produced enough of an impression for Peter Martyr, tutor to the Spanish princes, to record the first tasting: "The most invincible King Ferdinand relates that he has eaten another fruit brought from those coun­tries. It is like a pine­nut in form and color, covered with scales, and firmer than a melon. Its flavor excels all other fruits."
At least part of the excitement came from the fruit's spiked form, which sent Europeans into rapture. Ferdinand's envoy to Panama, Gonzalo Fernández de Oviedo y Valdes, writes, "[It is] the most beautiful of any fruits I have seen. I do not suppose there is in the whole world any other of so exqui­site and lovely appearance."
The sweetness of the pineapple, too, should not go unmentioned. Renaissance Europe was a world essentially bereft of common sweets. Sugar refined from cane was an expensive commodity, and orchard­ grown fruits were subject to seasons. The pineapple may well have been the tastiest thing anyone had ever eaten. But delicious or otherwise, it was still the preserve of adventurers, and the pineapple might never have made it into common lore if it hadn't coincided with yet another global develop­ment: the widespread dissemination of the written word.
Though books had been in production since the mid 15th century, the 16th cen­tury saw an estimated increase of 130 mil­lion books flood Western Europe. Sailors and scholars alike took up the pen to chronicle tales from the New World, its civilizations, climate, flora, and fauna. Suddenly, wider knowledge of the pine­apple led people to notice its glaring absence in the Bible and classical texts.
As Fran Beauman notes in her book The Pineapple, "That it was previously unknown in the Old World meant that it was free of the cultural resonances that engulfed other fruits." While the pomegranate suf­fered under the legacy of Persephone and the apple was stained by the Creation story, the pineapple was, Beauman continues, "a com­pletely blank page" onto which ruling powers could press their own meanings.
It did not take long for the absolutist monarchy, still unshaken on the Continent, to co­opt the pine­apple for its own purposes. The French priest Father Du Tertre may have been the first to bless it "the king of fruits," but by the mid 17th century, this imperial image was exceedingly popular. The French physician Pierre Pomet's exalting explana­tion runs, "It was thought a just Appellation … to call the Ananas the King of Fruits, because it is much the finest and best of all that are upon the Face of the Earth. It is for this Reason that the King of Kings has plac'd a Crown upon the Head of it, which is an essential mark of its Royalty."
The pineapple became a symbolic mani­festation of the divine right of kings. Not only did it suit Royalist agendas to claim anything with a crown had been appointed by heaven, but the distance the pineapple had to travel to get to Europe meant few people had seen or tried one. This added an extra mythical quality that could not be contested.
. . .
Perhaps the memory of when people had never seen anything so spiky or tasted anything so sweet lingers in our collective subconscious. At the very least, the modern love of the pineapple feeds into people's constant yearning for summer, for faraway tropical lands. A life of heat and pleasure. A life of leisure, in fact, just like aristocrats once had.
Originally published in The Paris Review.
---
Get over your barbecue fatigue and rediscover old ideas through one of the world's most fundamental cooking techniques. A report by Aoife McElwain for The Irish Times. Here are some excerpts.

Writing about barbecue this week seems a little cruel, as grey clouds have gathered over our little island once again. Was the hazy heat of last week just a dream? Was it real life?
. . .
It's thought that the word barbecue came from the Caribbean word "barbacoa" or "barabicu". This is believed to have been the name for the wooden structure of sticks used to grill meat over an open fire. Spanish explorer Gonzalo Fernández De Oviedo y Valdés wrote about the cooking method discovered in the Americas, and this is thought to be the first time the word barbecoa appeared in print.
Richard Wrangham's book Catching Fire: How Cooking Made Us Human (2009), is an anthropological look at how cooking with fire is what first brought humans together. Wrangham argues that cooking over fire had a profound effect on the evolution of human beings, giving us the first opportunity to gather around a meal, as opposed to foraging and eating individually, and he believes that cooked meat helped our brains grow. It's a fascinating read that will change the way you view barbecue. If you're an advocate of a plant-based diet, beware. Wrangham has no time for the raw-food movement.
Michael Pollan also references Wrangham's theories in his book Cooked: A Natural History of Transformation (2013), and in his Netflix series based on this brilliant book. In the first chapter, Pollan spends time with the pit masters of North Carolina to discover the ancient art of cooking over fire and what the deal with barbecue is. He's quite sensible in his approach to the fables and traditions that surrounds modern barbecue. "It is remarkable how much sheer bullshit seems to accrete around the subject of barbecue," he writes. "No other kind of cooking comes even close. Exactly why, I'm not sure, but it may be that cooking over fire is so straightforward that the people who do it feel a need to baste the process in thick layers of intricacy and myth. It could also be that barbecue is performed disproportionately by self-dramatising men."
. . .
---

Illustration of a sloth in André Thevet's Les Singularitez de la France Antarctique
As described by a 16th-century French missionary, the South American 'little bear' with the face of 'a baby' was introduced to Europe
This week, an example of what is believed to be the first printed illustration of a sloth will be up for auction as part of a fine books and manuscripts auction at Christie's in New York. It appears in the 1557 Les Singularitez de la France Antarctique (Singularities of France Antarctique) by André Thevet, a French Franciscan friar who joined a 1555 expedition to the French Protestant colony of France Antarctique in today's Rio de Janeiro. His manuscript and its woodcuts, attributed to artist Jean Cousin, represent, with varying degrees of accuracy, the flora, fauna, and people of Brazil.
"[This book] is one of these really special books, because it's the way that this information was transmitted," says Rhiannon Knol, junior specialist in books and manuscripts at Christie's auction house. "It's hard not to think that for its first few owners, it's the most amazing thing you can imagine. It's telling you that monsters are real, that there's a whole other world that you never knew of."
As Manoel da Silveira Cardozo wrote in a 1944 article for The Americas, to a man "with his great interest in natural history, the opportunity afforded him to know the natives, to observe the exuberant fauna and flora, to collect objects of various sorts, must have filled him with delight." Although he had intentions for converting indigenous people, he "soon gave it up" and instead joined the French sailors in exploring the local terrain.
"This book has so many firsts because he was one of the first people to really report on and then publish with illustrations some of these New World creatures," says Knol. It includes some of the earliest descriptions of a toucan, a tapir, a bison, and someone smoking a cigar.
Thevet started work on Les Singularitez almost immediately upon returning to France. The book became a compilation of his own ventures as well as second-hand knowledge, including descriptions of South America obtained from French sailors. His text suggests that he had some first-hand experience with sloths, as the description is much more accurate than the illustration attributed to Cousin. Thevet writes that it has "the size of a very large African monkey" and "three claws, four fingers long … with which it climbs trees where it stays more than on the ground. Its tail is three fingers long, having very little hair." Rather than take in some of the nuances, the illustration focuses on Thevet's description of a "little bear" with a head "almost like that of a baby" and translates that to a long-clawed bear with an actual human face. Nevertheless, Thevet had some imaginative stretches of his own, as he also states that it was "never seen eating" and that the local people had watched "to see if it would feed, but all was in vain."
He says in the book that he was given one as a present and that he watched it for some 20 days and it did not eat or drink, suggesting that it might be like chameleons he had witnessed in Constantinople that lived on eating air. That sloths survived by eating air had previously been posited by Spanish writer Gonzalo Fernández de Oviedo y Valdés, who was one of the first to describe a sloth in his 1526 Historia general y natural. Since the three-toed sloths of the South American rainforest sleep over 15 hours a day and eat plants from trees by night, it's likely that these observers simply never observed them eating.
The sloth woodcut in Les Singularitez shows a bristly beast that has paused mid-stride to regard the reader. Balanced on four feet, each sprouting three long claws, it walks like no sloth known to Earth. As anyone knows who has watched a video of a sloth attempt to cross a road, they crawl at a glacial pace when on the ground, nothing like this prowling hairy creature.
The walking, baby-faced, air-eating sloth was far from Thevet's strangest inclusion. For instance, Thevet also wrote of the Succarath, a beast possibly formed from distorted descriptions of a possum or anteater. Shown with a devilish head and body akin to a lion, it was said to use its big bushy tail to shield its young who ride on its back when fleeing a predator.
. . .
As one of the earliest French books on the Americas, Thevet's book was popular, particularly as it fit into the 16th-century genre of texts that introduced readers to distant places, shifting quickly between subjects and emphasizing the curiosity of these foreign lands. It was also borrowed by fellow authors looking to create their own chronicles of global curiosities, and his images spread through subsequent publications like a printed game of telephone. As scholars Danielle O. Moreira and Sérgio L. Mendes noted in the Annals of the Brazilian Academy of Sciences, Thevet's work influenced representations of sloths by Europeans for decades after he first published them. They write that Thevet was "the first to write about a misshapen creature called Haüt or Haüthi," derived from an indigenous word for the tree where it lived. His book illustration soon appeared in Swiss naturalist Conrad Gessner's 1560 Icones animalium quadrupedum viviparorum et oviparorum, and in French explorer Jean de Léry's 1578 Histoire d'un voyage fait en la terre de Brésil, in which "sloths were illustrated in trees and standing on the ground, among evil spirits tormenting the Native Americans."
---

One Reason the Story of the Explorer Hernando de Soto Is Memorable
A report by Kevin. H. Siepel for the History News Network. Here are some excerpts.
Attend to the deeds of this ill-governed governor, Hernando de Soto, instructed in the school of Pedrarias de Ávila, in the debauchery and destruction of the Indians of Castilla del Oro, graduate in the murder of the natives of Nicaragua, and canonized in Peru according to the order of the Pizarros. Shaking himself free of those hellish paths, he went to Spain loaded down with gold, but neither as a bachelor nor a married man could he rest, nor did he know how to, without returning to the Indies to spill human blood—not content with the blood he had already spilled—and to exit this life in the manner to be related, and causing so many sinners, deceived by his empty promises, to be lost with him. – Gonzalo Fernández de Oviedo y Valdés
. . .
Soto had started out well in the New World. Although no more high-minded than the average European opportunist of the day (he was "very given to hunting and killing Indians," according to contemporary historian Oviedo y Valdés, who knew him), he was certainly astute, quickly seizing whatever opportunity came his way—mining, shipping, the capture and sale of Indians into slavery. He amassed wealth and power quickly and easily; by 1530, still in his early thirties, he was one of the wealthiest men of León, Nicaragua. Ever alert to new possibilities, he at this time sought acceptance as a partner in Pizarro's third and final voyage to Peru. Unsuccessful in this endeavor, he subsequently sailed to Peru at his own expense, presented himself to Pizarro as a competent lieutenant, and soon took a leading role in the conquest of the Inca empire.
. . .
In May 1539, following a year of preparation in Cuba, Soto placed others, including his new wife, in charge of Cuban affairs in his absence, embarked his army (along with a few women) and a hundred seamen—with attack dogs, pigs, and some 240 horses—aboard five topsail ships, two caravels, and two brigantines, and headed for peninsular Florida's west coast. The Soto expedition, unlike that of the unlucky Pánfilo de Narváez a decade or so before, was well provisioned and competently led. Its commander soon came to develop a clear-cut plan: he would establish a settlement on the coast, likely along today's Florida panhandle or in present-day Alabama, and send out expeditions from there into the interior, retaining dependable seaborne communications and supply lines with Cuba. But in early 1540, while awaiting the results of a maritime coastal probe, he received intelligence of a source of great wealth to the north, and the plan was abruptly adjusted. The army, initially to the men's great joy, would undertake a long detour north to today's South Carolina to investigate these reports.
It was the beginning of what would become a deep and chronic disappointment. Having nearly starved in this land's tangled, marshy wilderness interior, the army ultimately found nothing of the promised wealth. The tired Spaniards then moved north and west through today's North Carolina, crossed the Great Smokies into Tennessee and down into Georgia, then headed westward into Alabama, still finding nothing resembling wealth—certainly no new Peru or Mexico—at any point along this route. Some began to regret this deviation from the plan. Others had in fact become disillusioned with the entire operation. But all pushed doggedly on, reluctantly conforming themselves to the will of their commander.
They had to. In the words of a Portuguese chronicler who was present, the so-called Gentleman of Elvas, "As [Soto] was a man, hard and dry of word, and although he was glad to listen to and learn the opinion of all, after he had voiced his own opinion he did not like to be contradicted and always did what seemed best to him. Accordingly, all conformed to his will, and . . . no one had anything to say to him after his determination was learned."
Many men, however, even wealthy men who had given up large incomes in Spain to accompany him, allowed themselves to be led almost blindly. "I knew Soto quite well,' said Oviedo y Valdés, "and . . . I didn't believe he had the sweet talk or cunning required to delude such persons."
. . .
Finally realizing that his dwindling army—he had lost nearly half of it by now, and more than half his horses—could neither defend itself well nor even sustain itself in this land, and despairing of finding anything of lasting value here, Soto in October 1541 ordered a return to the Mississippi River. His intention was to winter along the way, establish a temporary settlement on the great river's banks, and build two brigantines to send downriver for help from Cuba or New Spain (Mexico). With assistance from the outside, he calculated, he might yet be able to retain his tenuous foothold in this land.
Before this design could be put into effect, however, Soto contracted an illness and died, his body weighted with sandbags and dumped into the swirling Mississippi.
The army's new leadership, determining that the Soto plan of hanging on till relief arrived from Cuba or New Spain was unrealistic, attempted now to escape this land by journeying overland to New Spain, a dimly perceived destination known to lie somewhere south or westward of their present location. Moving deeper into the oven-like summer heat of today's east Texas, the confused men, in their desperation to outrace hunger, finally turned around and made their way by forced marches back to the Mississippi. Building rafts now throughout the winter of 1542-43, uneasily dependent on seemingly friendly Indians for food and other supplies, the army's remnant in July embarked on a desperate escape downriver, pursued much of the way by canoes bearing hundreds of vengeful Indians. Not without further casualties, they succeeded in reaching the Gulf of Mexico, navigating for weeks along the coast to arrive finally in New Spain at the end of summer.
The bodies of nearly 300 men, all 240 horses, and Soto himself had been left to rot in La Florida, where no Peru or Mexico had been found.
"This tragedy," wrote Garcilaso, "lamentable because of the loss of the many and excessive efforts made by the Spanish nation without profit or benefit to the country, was the end and outcome of the discovery of La Florida, which the adelantado Hernando de Soto made at such expense to his own fortune, and with so much equipment of arms and horses and so many noble gentlemen and valiant soldiers . . . . All of this was consumed and lost without any gain."
Spain mounted no further such expeditions to La Florida, and eventually lost most of this land to France and England.
For Hernando de Soto, for the men of his army, for Spain itself, the expedition had indeed been a tragedy of enormous proportion.
---
America's First Mass
A report by John B. Buescher in the Catholic World.
Here are some excerpts:
When and where was the first Mass offered in America? No one living today knows the answer to this intriguing question. But we can summarize what we do know about the first Masses in various parts of the New World.
. . .
The first American Mass for which a record exists took place during the second voyage of Columbus, on the feast of the Epiphany, January 6, 1494, at a temporary shelter that would serve as a church at La Isabela, 30 miles west of what is now Puerto Plata in the Dominican Republic. Five priests accompanied the expedition: Benedictine Father Buil, Jeronymite Father Ramone Pane, and three Franciscan missionary priests. Fr. Buil celebrated the Mass. The settlers built a church on the site, the foundation of which has been excavated (another church building is now at La Isabela). The original settlement was abandoned by 1498 and its settlers moved to the newly established Santo Domingo on the south side of the island.
. . .
In March 1509, Juan Ponce de León, with a group of colonists, including priests, landed in Puerto Rico at "Caparra" (now Pueblo Viejo in Guaynabo) and established a settlement there (the ruins remain and are a U.S. National Historic Landmark). That group's first Mass would have been the first Mass we can say was offered on what is now U.S. territory.
. . .
A priest named González accompanied the expedition of Juan de Grijalva in 1518 that landed briefly at Yucatan and further along the coast of Mexico, as described by Bernal Diaz del Castillo, who did not, however, record that Mass was offered there. Indeed, the priest appears in the narrative only to have assisted in helping the expedition locate and collect gold images of native deities that were then carried away.
. . .
In early 1522, Ponce de León attempted, from Puerto Rico, to establish a settlement near Charlotte Harbor, on the west coast of Florida. But he was unable to do so, owing to the hostility of natives, who attacked and drove away the Spaniards, fatally wounding Ponce in the battle. The disaster occurred almost immediately upon their landing, but the brief account of the expedition by Gonzalo Fernández de Oviedo y Valdés, in his Historia general y natural de las Indias suggests that some days elapsed between their landing and the attack, during which time the priests accompanying the expedition tried to preach to the natives and come to terms with them, but to no avail. If the priests were indeed onshore for a few days, as Oviedo suggests, before being driven away, they may well have offered Mass there, at Charlotte Harbor, which would have been the first Mass offered on what would become the continental U.S. But if they did so, it was not noted in the spotty records that remain of the expedition.
In June 1526, two Dominican priests, Antonio Montesino and Anthony de Cervantes, accompanied several hundred colonists under the leadership of Lucas Vasques de Ayllón from San Domingo and attempted a settlement upon the Atlantic coast of the mainland north of Florida. They first made land at Cape Fear (near present-day Wilmington, North Carolina) but chose to sail on, looking for a more salubrious spot, which they found and established the small settlement of San Miguel de Guandape (or Gualdape) where, during the summer and fall of 1526, they certainly did offer Mass. After the death of Ayllón in October, the colony abandoned the country and returned to San Domingo. But the problem is locating where the settlement was. The original Spanish sources are conflicting about which direction the expedition took after it decided not to land at Cape Fear. One of the sources says that the settlers sailed north and located the settlement in precisely the same spot in Virginia that the English would later establish Jamestown. However, another source has them going south, which would locate Miguel de Guandape settlement perhaps around Georgetown, South Carolina, or even Sapelo Island, Georgia.
Panfilo de Navaez (including Alvar Nuñez Caveza De Vaca) put ashore at present day Stump Pass near Englewood on the Gulf Coast of Florida on Good Friday, April 10, 1528, and the landing party was resting at an evacuated Indian village there on Easter Sunday, where Franciscan priest Juan Suarez would almost certainly have celebrated Mass.
---
Oviedo: "Ponce De León Never Searched for the Fountain of Youth," the Smithsonian magazine reports
A report by Matthew Shaer for the Smithsonian Magazine. Here's an excerpt:
J. Michael Francis, a historian at the University of South Florida, St. Petersburg who has spent decades studying the Spanish colonies in the Americas , says no mention of a Fountain of Youth occurs in any known documents from Ponce's lifetime, including contracts and other official correspondence with the Crown. In fact, Ponce's name did not become connected with the Fountain of Youth until many years after his death, and then only thanks to a Spanish court chronicler out to discredit him.

Gonzalo Fernández de Oviedo y Valdés disliked Ponce, contending that he was gullible, egocentric and dull-witted. The animosity probably had something to do with court politics: Oviedo aligned himself with Diego Columbus, who was the son of Christopher and the man who helped push Ponce out of Puerto Rico.

In Historia general y natural de las Indias, Oviedo's account of the Spanish settling of the Americas, he relates a tale in which Ponce, deceived by Indians, goes tromping off on a futile hunt for the Fountain of Youth. It's all a literary device intended to make Ponce appear foolish. Although visits to spas and mineral baths were common in the 16th century, actually believing water could reverse aging was apparently considered pretty silly.

Oviedo's satiric version of Ponce's travels stuck. "You've got this incredible story that started out as an invention," Francis says, "and by the 17th century, it has become history." (For what it's worth, Ponce died at age 47 after being wounded by an arrow in a fight with an Indian tribe in Florida.)
---