Burial sites can offer insights into how ancient people lived their life, and how those around them chose to preserve them with intention. Extraordinary examples, such as Shi Huangdi's mausoleum and its Terracotta Army, are rich in information about the societies which created them. The army was created during the Qin dynasty in ancient China (Britannica 2023) to aid emperor Shi Huangdi in the afterlife (Cartwright 2017). Its scale and level of preservation are valuable in aiding archaeologists' understanding of ancient China.
The discovery of this mausoleum aids in confirming the classification of this period in imperial China as a state society, as complex burials of those high in a social order require great specialization, resources, and social power. The evident existence of a large standing army is also evidence of a strong centralized state (Britannica 2023). In terms of societal structure, the burial site informs us that the sculptures were created through forced labor, as the remains of convicts and laborers were found with plaques among the site (Cartwright 2017). From this it is clear that the imbalance in social standing between the emperor and laborers was vast. Shi Huangdi was buried with many valuables and precious materials (VMFA), showing that the living respected him. These discoveries also support the idea that a greater purpose toward the Emperor outweighed the monetary value of these materials to the empire, enriching the understanding of their organization as survival wasn't a priority over respect for the ruler.
Aspects of other people's value within society are represented within the monument as well, primarily the soldiers. The height of soldiers' statues is correlated to their level within the military, with generals being the tallest (Cartwright 2017). Applying consistent cultural aspects from other cultures, it could be concluded that this height differentiation indicated that higher military ranks were respected and held significance in ancient China.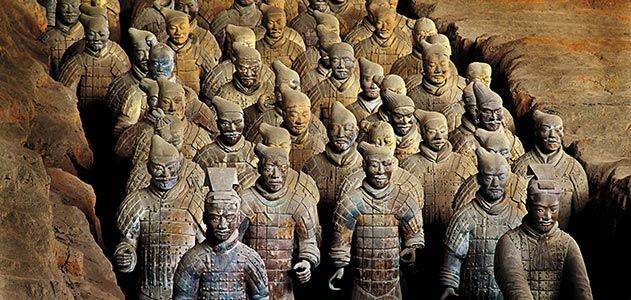 A great amount of time and resources were also used to create the Terracotta Army and the rest of the burial site. Each soldier is represented as an individual, with varied colors, headpieces, and positions, and they stand upon a quarter of a million tiles (Cartwright 2017). The aforementioned wealth which Shi Huangdi was buried with is also significant. This use of time to create all of these sculptures and the resources involved indicate that specialization was very prevalent (Cartwright 2017). They may not have needed the wealth because of steady food supply and great success financially, and laborers could focus solely on crafting as they wouldn't have to grow their own food in a state society. With this societal organization, a standing army and class systems including the laborers and craftspeople are all present because of the scale and ability to organize at levels beyond kin relationships (Renfrew 2018, 146).
Through the analysis of artifacts found with the Terracotta Army and the burial site of Shi Huangdi to which it belongs, more details about ancient Chinese society can be understood.
References:
Britannica, T. Editors of Encyclopaedia. "terra-cotta army." Encyclopedia Britannica, September 8, 2023. https://www.britannica.com/topic/terra-cotta-army.
"Terracotta Army: Legacy of the First Emperor of China." Virginia Museum of Fine Arts. September 26, 2023. https://vmfa.museum/exhibitions/exhibitions/terracotta-army-legacy-first-emperor-china/.
Cartwright, Mark. "Terracotta Army." World History Encyclopedia. November 6, 2017. https://www.worldhistory.org/Terracotta_Army/#:~:text=The%20discovery%20of%20the%20Terracotta,of%20workers%20who%20built%20it.
Renfrew, Colin, and Paul Bahn. 2018. "How Were Societies Organized." Archaeology Essentials: Theories, Methods, and Practice. Fourth edition. 143-148, 157-158. Thames & Hudson.
Further Reading:
https://www.metmuseum.org/blogs/now-at-the-met/2017/terracotta-warriors-age-of-empires