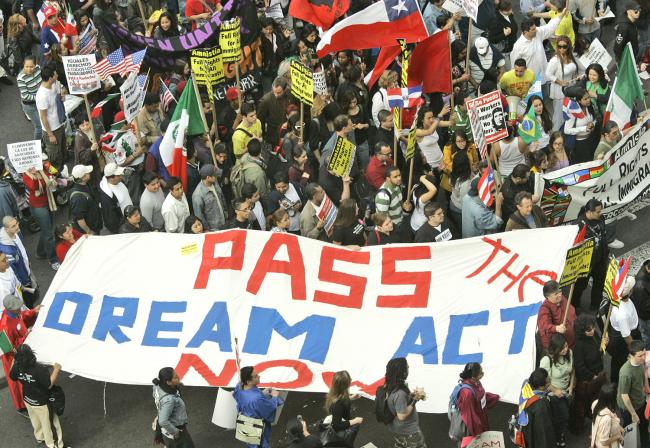 Each year in the United States, there are approximately 65,000 high school students who graduate and receive their diplomas, but find their options for their futures curtailed severely. Any aspirations these students may have to attend a four-year university, join the military, or find work are short lived the when reality sets in that these are not accessible to them. To any onlooker or researcher examining demographic data, the majority of these students are culturally American and indistinguishable from their peers. The U.S is their home.
These are the statistics and description given by the Immigration Policy Center regarding undocumented members of the "1.5 generation," first generation immigrant children brought to the U.S at such a young age that they have been raised almost exclusively in the U.S (American Immigration Council 2011). For many students of this demographic, they are often just discovering their undocumented status as they attempt to fill out applications. In 1982, the Supreme Court ruled on the case of Plyler v. Doe, guaranteeing free and public K-12 education to all students, citizen or undocumented (Drachman 2006:91). By contrast, access to post-secondary education has several times been restricted at the national level.
IIRIRA and the Origins of DREAM
In 1996, Congress passed the Illegal Immigration Reform and Immigrant Responsibility Act (IIRIRA), a piece of legislation intended make immigration laws and regulations stronger and more efficient. Section 505 of this act is particularly important in regard to these aspiring college students. It stipulates that undocumented students living within a state can only be charged the more affordable in-state tuition rates if the state they resided in also allowed for U.S citizens from other states to apply for in-state tuition (Barron 2011). A large portion of undocumented members of the 1.5 generation come from low-income families, as their parents are also undocumented and can only get low-income, unregulated work where employers don't ask for Social Security numbers or other documentation. This, in combination with the fact that they themselves do not have the paperwork required to complete college applications or apply for work to pay tuition, means these undocumented students are, for the most part, are left without support in  the country they believed was their home. While individual states have passed laws in recent years circumventing residency requirements for in-state tuition application, it is far from being the national norm.
In 2001, Republican Senator Orrin Hatch, identifying this issue, proposed the first version of the Development, Relief, and Education for Alien Minors (DREAM) Act to Congress. The stated goal of this legislation was to "allow children who have been brought to the United States through no volition of their own the opportunity to fulfill their dreams, to secure a college degree and legal status" (Barron 2011). In order to do this, the DREAM Act would repeal Section 505 of IIRIRA, and provide a path to citizenship for those undocumented members of the 1.5 generation who had arrived in the U.S under a certain age and had been in the U.S for a certain number of years. From 2001 until 2011, the DREAM Act has been proposed, with some variation, each year since, often coming close to but never actually receiving enough votes to pass both parts of Congress. 
What the DREAM Could Have Been
In order to begin the path to citizenship under the 2010 DREAM Act, which became the 2011 DREAM Act with very few parts changed, an undocumented immigrant would have to have entered the U.S prior to age sixteen, and have lived in the U.S continuously for a minimum of five years. Upon completion of high school or a GED program, along with proof of acceptance into a post-secondary institution, they may then apply for "conditional nonimmigrant status." In order to be approved, the individual's background check must show a lack of any disqualifying factors (health risk, criminal activity, national security risk, etc.), and must also demonstrate that they are of the "good moral character," as defined by the Immigration and Nationality Act (Barron 2011). They retain this status for ten years. Nine years into this period, the individual may begin the application process for the status of "alien lawfully admitted for permanent residence," which requires having earned either a degree from an institution of higher learning, completion of two years of a Bachelor's program, or two years in the Armed Forces. After three years of having this status, the immigrant can begin naturalization procedures. Additionally, an individual with either status is allowed to work legally in the U.S, and also has access certain student loan programs and federal work study, but not affirmative grants such as Pell Grants, in order to support their post-secondary endeavors.
Not the Nightmare You Think It Would Be
Who Would Benefit from It
One of the biggest fears, and points of contention, regarding the DREAM Act which has prevented it from passing is the fear that it will somehow take away opportunities, seats, spots, positions, resources, etc. from American citizens and immigrants who are following the existing legal pathways to become citizens. In particular, the idea of rewarding "criminals," so phrased, has been a major reason for reduced public support for legislation such as the DREAM Act. However, this is line of reasoning negatively generalizes all 1.5 generation students and members, when in fact it is very much a diverse and differentiated group. This generalization and stereotyping also extends to the type of economic impact they may have on the communities they live in, which is again far more complex and varied situation than is often purported.
The majority of the 1.5 generation youth and young adults who would be eligible for the DREAM Act, should it pass, are not undocumented through their own choice, and did leave one home country to exploit the U.S economy before returning. Rather, the U.S is their home country. Andrew Stevenson wrote, in regard to them, that "Because these youths had grown up and attended school in the U.S. since their early childhood, they felt almost no connection to their actual countries of citizenship" (2004:559). He uses the example of a community college student named Victor, who, having arrived here seven years prior with his family on a tourist Visa, has spent his formative years in the U.S, finished in education in the U.S, and even began post-secondary education here. However, because the Visa expires at age 21, his options were suddenly and severely limited. Without a legal visa, he would have to leave school, but also has little hope of being able to afford a new one, as without the documentation, he has no way of paying for new documentation, a crippling, paradoxical situation to say the least.
Victor's story also serves as a prime example of another distinction that must be made regarding this generalized "immigrants" group. Edward Drachman (2006) in Peace Review writes that "Most undocumented immigrants do sneak across this country's borders from Mexico or enter with fraudulent documents, but many others come here legally and overstay their visa (98)". In addition to most being brought to the U.S involuntarily, many of these aspiring college students were admitted into the U.S legally and, for an extended period, were treated the same as legal citizens, at least until their expired visa status was discovered. Hence, for the most part, members of this 1.5 generation who would be eligible for the DREAM Act are not the border-hopping, document forging, "illegals" that has often been represented in public opinion pieces. Rather, they are almost-citizens who have been in the U.S for a large portion of their lives, and intend to stay here, work here, and contribute the same as any other citizen. What prevents this are legalities, not their own choice.
How the U.S Would Benefit from Them
Another of the major arguments against the DREAM Act is that it would place additional burden on tax-payers by forcing them to subsidize the education of undocumented students. From a sociological perspective, increases in this seemingly xenophobic view could be due to economic downturns in recent years. Addressing this argument, Stevenson cites several studies which indicate that "…the tax burden in subsidizing these students' education may in fact be insignificant" (2004:573). Quite the opposite, immigrants paying taxes substantially adds to local and state tax revenue. In Illinois, Stevenson notes that, despite being confined to low-income jobs, immigrants contribute seventy million in taxes annually, a figure which can only increase should there be more legal, college educated immigrant-citizens created under legislation such as the DREAM Act. Sandy Baum, professor at Skidmore College, and Stella M. Flores corroborate this statement in their piece, writing that immigrants "…who attend college pay higher taxes and are less likely to depend on public support than those who do not. Their increased productivity in the workplace is reflected in more rapid economic growth and higher earnings for their less educated co-workers" (2011:185).
Conclusion
Although the DREAM Act has not been re-proposed since 2011, legislation similar in effect should be enacted within the U.S. To not help these aspiring college students, soldiers, and workers is "to create a discrete permanent underclass continuing to live with an "enduring disability" (Drachman 2006: 94). Making these members of the 1.5 generation would provide numerous benefits to the U.S economically, and would also be a step toward allaying certain stereotyped fears about immigrants, as, in general, college educated students actually draw less on public services and the criminal justice system as well. Passing DREAM-esque legislation and providing a pathway to citizenship for these already almost-citizens is imperative. While certain individual states have enacted the own version of the DREAM Act to aid aspiring college students, only federal action can solve this pressing problem.
Michael Olivas on state-level DREAM Acts and DREAM Act related legislation in the absence of a national DREAM Act 
References 
Barron, Elisha. 2011. "The Development, Relief, and Education for Alien Minors (DREAM) Act." Harvard Journal on Legislation 48(2): 623-625 (Retrieved from Web of Science on October 25, 2014).
*On Web Science, I was only able to retrieve this source in "article" form, not in the original journal format. As a result, the text was listed continuously on one long page, and I was unable to give page numbers for the in-text citations.
Baum, Sandy and Stella M. Flores. 2011. "Higher Education and Children in Immigrant Families." Future of Children 21(1): 171-193.
Drachman, Edward. 2006. "Access to Higher Education for Undocumented Students." Peace Review 18(1): 91-100.
National Association for College Admission Counseling. 2013. "Tuition Equity for Undocumented Students Gains Momentum." April 10, Arlington, VA. Retrieved December 14, 2014 (http://www.nacacnet.org/research/PublicationsResources/bulletin/2013Bulletin/04-10-2013/Pages/TuitionEquity.aspx).
National Immigration Law Center. 2014. "FAQ: DACA." June 13, Los Angeles, California. Retrieved October 25, 2014 (http://www.nilc.org/FAQdeferredactionyouth.html).
Stevenson, Andrew. 2004. "DREAMING OF AN EQUAL FUTURE FOR IMMIGRANT CHILDREN: FEDERAL AND STATE INITIATIVES TO IMPROVE UNDOCUMENTED STUDENTS' ACCESS TO POSTSECONDARY EDUCATION." Arizona Law Review 46(551): 551-580.